Visit the Galleries
Our three spacious, light-filled galleries on the second floor of the mansion are open to the public and exhibit a variety of contemporary art throughout the year.
In addition to our Fall and Spring Juried Exhibitions, Falkirk has exhibited the work of Bay Area collective groups such as the California Society of Printmakers, BayWood Artists, the Association of Clay and Glass Artists, and many more.

Current Exhibition
This is Not a Book
Journals by Minna Towbin Pinger
January 24- April 12, 2019
Join us for Artist Receptions, as part of 2nd Friday Art Walk
5:00pm-8:00pm
March 8
April 12
From the artist:
We all come from somewhere. We all have family.  Journaling has helped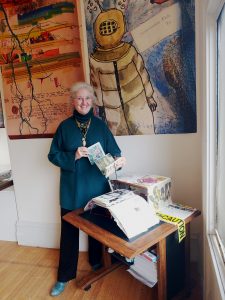 me to trace the connecting threads in our web of humanity.  When we see our connections, the spaces between us become less important and easier to breach. As Maya Angelou writes in her poem, The Human Family, "We are more alike my friends than we are unalike." 
The journals help me make sense of what I don't understand and to stay sane in the face of what I do understand but do not like. They are a coping mechanism.  A majority of what I have written over the years has revolved around home and family; mine and the families I observe around me.  My observations prompt questions like, "what do we bring forward from our childhoods and what do we leave behind" and why.  What do we mean when we say, "home"?   If you have one and you leave it, is that place still home?   It is a question that carries a lot of weight these days. 
For most of my life art, my own and other people's, has been the cornerstone of the places I call home;  it has been a refuge, a lifeboat, a ceiling and a floor.  My journals have been the way I have held on to the people I have loved, and have expressed love for people I have admired but never met.  
Please join me at Falkirk Cultural Center for some stories of home and family.   
Special Workshop - Free
I would like to work with anyone who might be interested in beginning a journal, especially children.  Workshops would run an hour and take place at Falkirk.  Materials provided. If interested, please contact me during the run of this show (until February 16) at minnapinger@me.com and (IMPORTANT) put JOURNALMAKER in the subject line. 
Exhibition Proposals
Falkirk welcomes exhibition proposals on an ongoing basis. Exhibitions must include at least three artists. Proposals should include a brief, one-page description of the exhibition explaining its overall theme and scope. Include sample images in digital form, along with bios and any relevant information about the artists or the group you are representing.
Mail proposal to:
Exhibition Program
Falkirk Cultural Center
PO Box 151560
San Rafael, CA 94915-1560
415-485-3328