Visit the Galleries
Our three spacious, light-filled galleries on the second floor of the mansion are open to the public and exhibit a variety of contemporary art throughout the year.
In addition to our Juried Exhibitions, Falkirk has exhibited the work of Bay Area collective groups such as the California Watercolor Association, California Society of Printmakers, BayWood Artists, the Association of Clay and Glass Artists, and many more.
Next Juried Show: Spring 2020, details available in October.
Plein Air Competition & Awards Reception
Friday, September 13, 2:00pm-7:00pm
Plein Air Competition, 2:00pm-5:00pm
Awards Reception, 5:00pm-7:00pm
Paint or admire, public is welcome. Artists will be painting on site and welcome visitors. Completed Plein Air pieces will be on display in the mansion for the evening. Guests and participants have the opportunity to vote for the People's Choice Award between 5:00-6:00pm, winners announced at 6:15pm.
Interested in participating in the competition? Everyone and all mediums are welcome.  Please let Ashley know that you plan to participate by Thursday 9/12 by emailing ashley.howe@cityofsanrafael.org. Participants should bring all supplies they need including easels (+ frames if possible) to display completed work.
Free refreshments provided by the City of San Rafael &  Falkirk Cultural Center.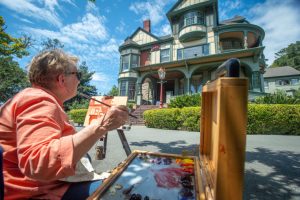 Artists of Mt. Tamalpais
September 20-October 26, 2019
Artist Reception: Friday, Oct. 11, 5:00pm-8:00pm
Don't miss the chance to experience the collective work exhibited in the Artists of Mt. Tamalpais  group show. Sponsored by the Muir Woods Park Community Association, the exhibition includes photography, paper arts, woodworking, painting, pastels, textiles, ceramics, basketry, and mixed media from twenty artists.
Artist information available at mounttamartists.org
Free refreshments provided by the artists  &  City of San Rafael/Falkirk Cultural Center.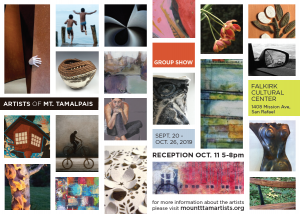 Counterpoint
November 8-December 13, 2019
Artist Receptions: Friday, Nov. 8 & Dec. 13, 5:00pm-8:00pm
Visit during public hours or attend one of two artist receptions to experience the dynamic group show, Counterpoint. Artists, Suzy Barnard, Ruth Boerefyn, Renee Carriere, and Patricia Lyons Stroud have collaborated to create a show that provides elements that both contrast and complement one another.
Free refreshments provided by the artists  &  City of San Rafael/Falkirk Cultural Center.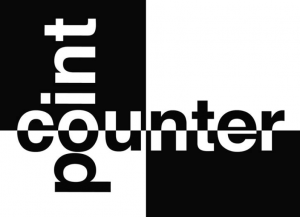 Recent Exhibition: California Watercolor Association (CWA)
July 19 - August 24, 2019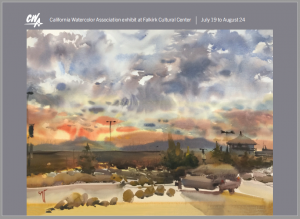 Plein Air Competition & Awards Reception, as part of 2nd Friday Art Walk
Friday, August 9
Plein Air Competition
Artists painted on site and welcomed visitors to view their progress. Guests had the opportunity to vote for the People's Choice Award from completed Plein Air pieces.
Awards Reception
A colorful must-see exhibit featured 32 exceptional artists and 42 paintings. Guests had the opportunity to meet and engage with artists, purchase paintings, and celebrate award winners.
Artists: Sasha Boyko, David Broad, Sheila Cain, Michael Friedland, Juanita Hagberg, Annie Haines, Theodore Heublein, Sharon Hind-Smith, Carol Husslein, Glen Jarvis, Sue Johnston, Uma Kelkar, Shirley R. Kleppe, Neelu Manish, Samantha McNally, Ruth Miller, Marilyn Miller, Karyn Lynn Newman, Eileen Ormiston, Lillian Peng, Lorraine Prinzing, Crowden Satz, Bonnie Joy Sedlak, Tony Segale, Misty Segura-Bowers, Rita Sklar, Jane Sneed, Mary Tichenor, Salvador Valencia, Rae Ann Williams, Leslie Wilson, and Georganne Zaro-Eddy.
Juror of Selection, Carolyn Lord & Juror of Awards, Ruth Koch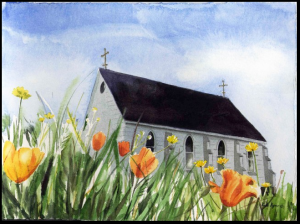 Kate Peper Pop-Up Exhibit & CWA Soft Opening
Kate worked in the dining room on her latest piece as visitors toured the house and viewed her progress. Her finished paintings were on display as well as t-shirts and hand-made greeting cards for sale. The three galleries on the second floor were open to preview the CWA exhibit.
 More information is available at www.falkirkculturalcenter.org and www.peperprojects.com
Call For Artists: Rotating Public Art Project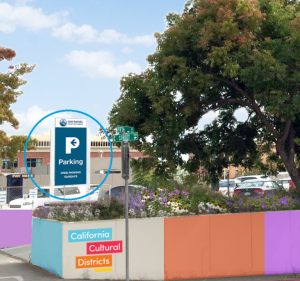 City of San Rafael's Parking Services Division is sponsoring a Call for Artists for a Public Art Project at one of its parking lots in Downtown San Rafael. The exhibit space, a 3 ft. x 6 ft. parking sign at the corner of Fifth Avenue & C Street, will be temporarily transformed into rotating, 6-month public art installations while the new Public Safety Center is being built (across the street).
Artists are encouraged to submit vibrant, colored and spirited designs inspired by the local natural beauty, environment and culture of San Rafael. Artwork that invokes a sense of community and engages pedestrians/drivers passing by this widely-used parking facility, is desired. This is an opportunity to be the first artist (or artist team) to showcase a piece at this location. The goal is to feature in each installation, artworks from youth artists (age 18 & under) on one side of the sign and artworks from adults (age 18+) on the opposite side.
We are interested in images created from, but not limited to, the following techniques: oil & acrylic painting, digital painting or art, watercolor, color drawings, paper art. Photography and black & white images will not be considered.
Previous Exhibition: Marin Open Studios Special Exhibit

Intriguing Art. Remarkable Place.
Featuring three exceptional artists: Maeve Croghan, Nelson Hee & Bernell Loeb
On display: May 3- June 22, 2019
Open both Marin Open Studios Weekends
11:00am-6:00pm
May 4, 5, 11 & 12
Join us for Artist Receptions, as part of 2nd Friday Art Walk
5:00pm-8:00pm
May 10 & June 14
About the Exhibit:
Maeve Croghan, Nelson Hee and Bernell Loeb were drawn to art at an early age, each finding a unique way to express their passion for the natural world.  They share an approach to painting that emphasizes meticulous detail and a painstaking craftsmanship that requires many hours of devotion to each piece.
Their approach to art finds a suitable space at the Falkirk Cultural Center.  The Falkirk is an exuberant masterpiece of Queen Anne Victorian architecture and an example of the timeless love of artistry and craft that can still be found in these artist's approach to their work.
Maeve's oil paintings are begun outside. She intensely observes the environment, becoming immersed in it as she paints. The paintings are finished in the studio from memory and personal interpretation, without photo references. Her color filled paintings are an interior exploration of her environment, and subject.
Nelson works mostly in dry-brush watercolors. He says "watercolor is a very unforgiving medium although I've learned to control it.  I do a lot of planning when I paint.  I find the subject matter, do a fairly detailed sketch, transfer the sketch to watercolor paper, refine the sketch, plan the color mixes and work in a very methodical way. I do use photo references that I take on location."
Inspired by the natural world, Bernell uses images from her unconscious, often working through dream interpretation.  Each painting takes months to complete using thin layers of oil paint meticulously applied with tiny brushes.  As a lover of antiques and the ephemeral, she also makes assemblages, combining rare objects from her collections with her painted surfaces.
About the Artists:
Maeve Croghan
Maeve has been painting since she was 15. She studied at the San Francisco Art Institute [BFA program] , as well as Reed College, the Portland Museum Art School, and the Corcoran School of Art.  She has a BA from New College of California in 'Art and Education' focusing on Art and Social Change.
Maeve has been the recipient of many prestigious juried awards.  Her paintings have been shown in numerous galleries around the country, and in museum showings in Alaska, California, Oregon, New Mexico, Michigan and Japan. Most recently her paintings were chosen for exhibits at the Matsumoto Museum in Matsumoto, Japan, and for the Museum of the Living Artist in San Diego, Ca.  Her paintings are featured on the wine labels of Castoro Cellars of Templeton, Ca.  Her work is in prominent collections throughout the U.S., Canada, Europe, Japan and Mexico.  Maeve's paintings have been chosen for multiple editions of the juried books, "ART of Northern California" & "American Art Collector", and chosen for the "Studio Visit" Art Journal. Her paintings are included in the book "Artists of the Northern Great Lakes".
Maeve is the founder of the Mendocino Eco Artists, a professional group of artists who join together and have exhibits benefitting and bringing publicity for environmental causes and organizations.  She is a founding member of the 'Mackinac 7' Artists group of Mackinac Island, Michigan, and on the 'Arts Committee' of the Mackinac Island Community Foundation.  She has served on the Advisory Board of the Mendocino Art Center Exhibits Committee, and for the Mendocino Area Open Air Paint Out (MOPO). She is a long time member of the Mendocino Plein Air Painters,(PAPM).  At The Hunters Point Shipyard Artists' Studios in San Francisco, Maeve organizes the Annual Holiday Art Show, and was formally on the Spring Open Studios Advisory Board.
Maeve splits her painting time between Hunters Point Artists' Shipyard Artists' Studios Community, in San Francisco, CA., Mendocino, CA. and on Mackinac Island, MI. in the summertime.
Nelson Hee
A recipient of educational and advertising/design awards, Nelson has held senior designer/illustrator and senior management positions in both the private and public sectors. Throughout his career, he's illustrated surgical procedures for medical abstracts and journals, designed and illustrated textbooks/books for professionals/students/consumers, designed food packaging labels, created/designed branding for companies/towns/municipalities, was the creative direction for corporations and created information graphics for litigation firms/attorneys.
After 35 years of being a commercial designer/illustrator, he decided to embark on creating his own personal visualizations to share with others what he sees and maybe elicit an emotion that is undefined or undiscovered or maybe, just to sit and stare. To show what can't be seen and to talk about it without uttering a single word.
Nelson holds a Bachelor of Fine Arts degree with distinctions in Print and Drawing from California College of the Arts (formerly California College of Arts and Crafts) and an MA in Medical Illustration (Biomedical Communications) from UC San Francisco, School of Medicine. Nelson was a board-certified medical illustrator for 20 years.
Born and raised in Hawaii, he has been living in the SF Bay Area for over 40 years, mostly in Marin County, California.
Bernell Loeb
Bernell received her BFA from the University of Missouri and later spent two years studying filmmaking at Columbia College in Chicago.  After working in the film industry for several years, she began buying and restoring historic properties in Oak Park, Illinois, winning numerous awards along the way.  In her 40's, she returned to painting, spending a year studying portrait painting at the Halstead Portrait Studio.
Bernell has been exhibiting her work in multiple galleries throughout the country over the past 10 years.  Her portraits and surrealist paintings are in numerous private collections.
Five years ago, she moved to Marin County to immerse herself in the natural beauty of the Northern California landscape.
Exhibition Proposals
Falkirk welcomes exhibition proposals on an ongoing basis. Exhibitions must include at least three artists. Proposals should include a brief, one-page description of the exhibition explaining its overall theme and scope. Include sample images in digital form, along with bios and any relevant information about the artists or the group you are representing.
Mail proposal to:
Exhibition Program
Falkirk Cultural Center
PO Box 151560
San Rafael, CA 94915-1560
415-485-3328