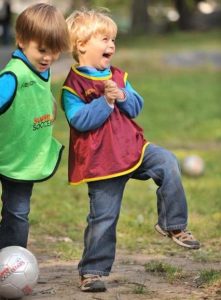 SOCCER STARS
Sundays,  January 7th - March 18th  
Kick & Play- for ages 12 mos to 24 mos- Caregiver/Child Participation Class
Kick & Play is a parent-child pre-soccer and movement program specifically designed for toddlers between 12 and 24 months. Our experienced instructors along with our puppet friends, Mimi & Pepe, take you and your little one through a world of exciting physical activity. Individual attention, positive reinforcement, and engaging original music help to develop pre-soccer skills that will have your toddler learning to balance, run, kick and play-all while having a blast! Parent participation required.
Soccer Development Class for ages 2-3 years
Every 2-3 year-old Super Soccer Stars class includes an introduction to physical activities, rich language exposure, and movements such as running, hopping, jumping and changing directions. The focal point of this age group is to improve your child's natural development through our fun, physical learning experience allowing your child to improve their natural ability.
Soccer Development Class for ages 3-5 years
The focal point of this age group is for your child to become comfortable with the ball by developing soccer skills such as dribbling, shooting and the introduction of passing. Every class includes dynamic activities, which involve dribbling technique, and moves to promote confidence with the ball. The primary focus will be  body movement with the ball and we'll introduce your child to juggling and other skill-building activities. The concepts of teammates and teamwork will also be  introduced.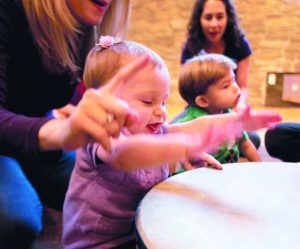 Music Together of Marin
Wednesdays, January 17th - March 28th
Get ready to have fun with your little one, as we explore the joy of family music! Music Together® is a play- based curriculum for babies, toddler, and preschoolers. We follow the recommendations of child development researchers—grouping children of a variety of ages because this fosters natural, family-style learning. Every participant can explore at their own level singing, moving, chanting, listening, watching, or exploring musical instruments. Come and join the fun with your little one! To learn more about our classes or rsvp a sample class you can visit musictogetherofmarin.com. Discounted fee for a second sibling is $125 and third sibling  is $75. There is a $75 material fee per child paid directly to the instructor on the first day of class. Second and third child (siblings) will pay $25 material fee each.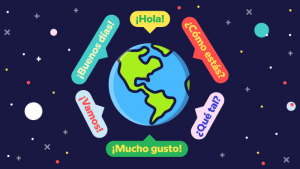 Canta Conmigo
Mondays, January 22nd - March 26th
To learn a second language was never so fun!! Join our Family Spanish class,  Canta Conmigo!, designed for kids 1- 4 yrs old with parent or guardian participation. During the session we will provide tools to parents to encourage the use of Spanish outside of the classroom. This 45-minute class will allow families to interact with Spanish through songs, stories, games and engaging activities. This class is for either first introductions to the language, or to help native, Spanish-speaking families foster continued use of the language.