Community Gardens - Join the wait list now
Garden plots are rented annually, beginning in January. As plots open up, we offer them to individuals and groups on the wait list. We give priority to current gardeners that continue to maintain their plots or wish to move to new plots.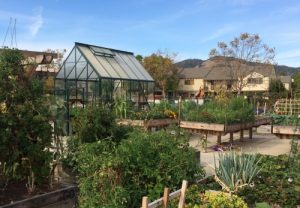 Canal Community Garden
Located at the corner of Bellam Blvd./Windward Way - next to Picante Restaurant
The Canal garden consists of 92 garden plots; 32 full plots (5'x10'), 48 half plots (2.5'x10'), 12 raised accessible beds (5'x8'), and an additional community bed (5'x16'). Gardeners are asked to participate in general chores and in at least three community work days organized seasonally. Please review the Canal Garden Guidelines before submitting an application.
To apply for a garden plot, request an application from Ashley at Ashley.howe@cityofsanrafael.org / (415) 485-3343 or visit the Albert J. Boro Community Center, 50 Canal Way / (415)485-3077
Annual Canal Community Garden Rates:
San Rafael Resident fee: $70 full plot; $35 half plot or accessible plot
Non-Resident fee: $80 full plot; $40 half plot or accessible plot