Join us for our annual Day of the Dead – Dia de los Muertos Celebration
4:00pm - 9:00pm
Albert J. Boro Community Center
50 Canal Street, San Rafael, CA 94901
Add to calendar 2017-11-04 16:00:00 2017-11-04 21:00:00 America/Los_Angeles Join us for our annual Day of the Dead - Dia de los Muertos Celebration

Come Celebrate!

Live Music Art Workshops Face Painting Traditional Food Procession Cultural Performances

Come enjoy art workshops, where friends and family learn about the Day of the Dead history, culture and traditional celebrations. There's also face painting and the beautiful procession/parade  which includes, drumming and dancing of Aztec and Mayan civilizations, display of big skeletons or "calacas", and people wearing traditional costumes, masks or face painting in honor of their love ones.

VIEW THE ALTARS

Altars are personal memorials of the life, times, values, contributions, and human spirit of those who have died. The Day of the Dead (Dia de los Muertos) is an important and unique celebration with roots in the Latin American tradition of commemorating and honoring the death of loved ones whose spirits visit Earth once a year in November. It is an intrinsic value of Latin American cultures to preserve the unity of the family. By celebrating the Day of the Dead, relatives and friends not only remember those who have already died, but also recreate the importance of family wholeness.

Free parking at Albert J. Boro Community Center and Bahia Vista Elementary School.  Free parking and shuttle service available from the Marin Health & Wellness Campus.

50 Canal Street, San Rafael, CA 94901
---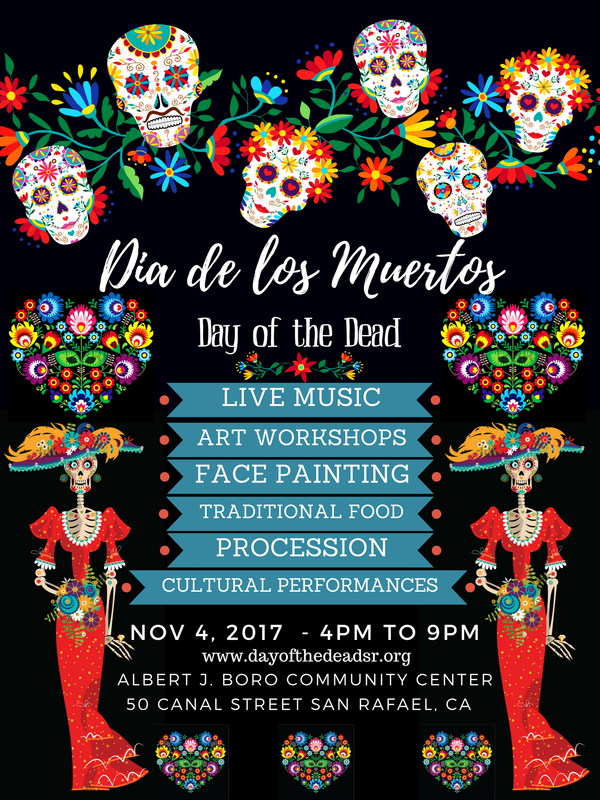 Come Celebrate!
Live Music
Art Workshops
Face Painting
Traditional Food
Procession
Cultural Performances
Come enjoy art workshops, where friends and family learn about the Day of the Dead history, culture and traditional celebrations. There's also face painting and the beautiful procession/parade  which includes, drumming and dancing of Aztec and Mayan civilizations, display of big skeletons or "calacas", and people wearing traditional costumes, masks or face painting in honor of their love ones.
VIEW THE ALTARS
Altars are personal memorials of the life, times, values, contributions, and human spirit of those who have died. The Day of the Dead (Dia de los Muertos) is an important and unique celebration with roots in the Latin American tradition of commemorating and honoring the death of loved ones whose spirits visit Earth once a year in November. It is an intrinsic value of Latin American cultures to preserve the unity of the family. By celebrating the Day of the Dead, relatives and friends not only remember those who have already died, but also recreate the importance of family wholeness.
Free parking at Albert J. Boro Community Center and Bahia Vista Elementary School. 
Free parking and shuttle service available from the Marin Health & Wellness Campus.