From fun family holiday events to garden workshops to cultural events in our beautiful galleries, we have something for everyone at Falkirk.
Due to the scheduled PG&E Public Safety Power Shutoff (PSPS),

all three Halloween/Ghost Stories events scheduled for Monday 10/28 are CANCELLED

. 

We apologize for the inconvenience & hope to see you next year. – San Rafael Library & Recreation Staff
Paint Out
Friday, November 8
2:00pm-4:00pm- Painting on the grounds
5:00pm-6:00pm- Recognition in the Parlor
All artists welcome to paint on the grounds and exhibit completed work for the evening. Staff asks that you check in before you begin and bring your own materials. Public is welcome to view paintings in progress or view completed work in the Parlor Room from 5-6:00pm.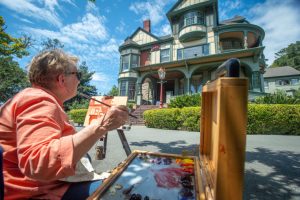 Ceremony to Name the Greenhouse
Friday, November 8
4:00pm- at the Greenhouse & Wedding Lawn
On Tuesday, April 2, City Council unanimously approved the recommendation to adopt a resolution naming the Falkirk Cultural Center's greenhouse the "Mulryan UC Marin Master Gardener Greenhouse".
The naming of the greenhouse, along with a plaque to serve as a designation of the naming, will commemorate the contributions made by former Mayor Mulryan for his involvement in the procurement of Falkirk Cultural Center, as well as the Marin Master Gardeners' role in restoring the greenhouse and the development and continued maintenance of several demonstration gardens.
Please join us to celebrate former Mayor Mulryan and volunteers of the UC Marin Master Gardeners.  Mayor Philips and representatives of the UC Cooperative Extension will say a few words before unveiling the plaque. Reception to follow on the Wedding Lawn.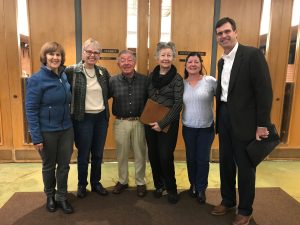 Counterpoint
Friday, November 8 & December 13
Awards Reception, 5:00pm-8:00pm
Visit during public hours or attend one of two artist receptions to experience the dynamic group show, Counterpoint. Artists, Suzy Barnard, Ruth Boerefyn, Renee Carriere, and Patricia Lyons Stroud have collaborated to create a show that provides elements that both contrast and complement one another.
Free refreshments provided by the artists  &  City of San Rafael/Falkirk Cultural Center.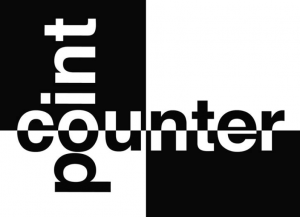 Dickens' Family Victorian Holiday
Friday, Dec.  6, 2019
6:30pm-8:30pm
Partake in a holiday treat as you go back in time to Victorian England and meet Charles Dickens. Listen to him read from his famous works and watch his characters come alive –look out for Scrooge!
Meet and greet the true Father Christmas, play Victorian parlor games, dance and sing with our Victorian family and make traditional holiday crafts. Light food and drink will be served. A true family event!
Child $  9.00 ($10.31 w/service fee)
Adult $12.00 ($13.41 w/service fee)
Sponsored & Hosted by the Cultural Arts Service League (CASL).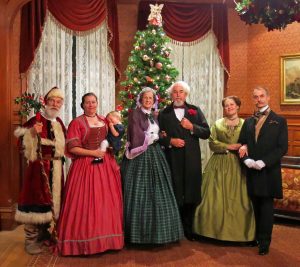 Magic Toy Box Tea
Saturday, Dec.  14 & Sunday, Dec. 15, 2019
Two seating options per day at 12:00pm & 3:00pm.
Join us for a magical holiday tour de force at our elegant Queen Anne Victorian with an old-fashioned afternoon tea for families. The event takes place in our beautiful sitting rooms with antique tea settings, live music, and fun activities, which usually include life-sized toys, a fun raffle, and opportunities for photos with your bears and friends.
We serve tea sandwiches and sweets along with hot tea, hot chocolate, and other beverages. Children are encouraged to bring their favorite teddy bear or other life-like toys, and parent or grandparent, for a holiday tea to remember.
Dress up for a wonderful child-friendly afternoon and remember your camera!
Make your reservations early as space is limited & the events SELL OUT.
Tickets: $25 children & $28 adults
Sponsored & Hosted by the Cultural Arts Service League (CASL).